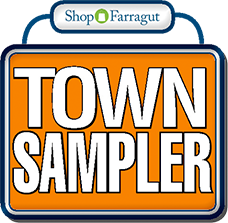 2018 Holiday Town Sampler!




Win $150+ in Gift Cards*




from participating




Farragut Businesses!
Shop Farragut wants you to WIN $150+ in Gift Cards* to participating Farragut Retail Shops, Restaurants or Personal Service Businesses. Why would we do that? It's really simple. By giving away a gift card to one of the many retailers, restaurants or service location in Farragut, we are giving you the opportunity to get acquainted with a local business that you may never have visited.
Our goal is that you find some nice NEW places to shop, dine, or be pampered, and that you'll want to come back again and again.
November 2018 Featured Businesses:
2 FREE Zaxby of Turkey Creek ZALADS
2 - $20 Gift Cards from First Watch Cafe
1 - $25 Gift Card from Elliott's Boots & Shoes
1 - $25 Gift Card from SEASONS Innovative Bar & Grille
1 - $25 certificate towards THE CUTTING EDGE CLASSROOM course
1 - $35 Gift Certificate to THIS LITTLE SCISSORS Salon
1 - Persoanl Training Session at GREATNESS FITNESS
* Gift cards or certificates.
Winners will be notified via email the last Friday of each month.