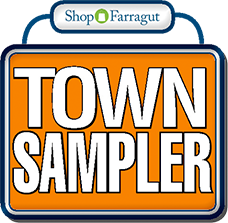 Win $270 in Gift Cards*
from participating
Farragut Businesses!
Shop Farragut wants you to WIN $270+ in Gift Cards* to participating Farragut Retail Shops, Restaurants or Personal Service Businesses. Why would we do that? It's really simple. By giving away a gift card to one of the many retailers, restaurants or service location in Farragut, we are giving you the opportunity to get acquainted with a local business that you may never have visited.
Our goal is that you find some nice NEW places to shop, dine, or be pampered, and that you'll want to come back again and again.
February 2019 Featured Businesses:
$25 Gift Card – CLEAN JUICE
$25 Gift Card – WATER into WINE
$75 Gift Certificate – Snooty Patootie's STOCKROOM Sale
$100 Gift Card towards Teeth Whitening Farragut Dental Studio
$20 Gift Certificate – Embroidery Boutique
$25 Gift Card – Studio of Therapeutic Massage
* Gift cards or certificates.
Winners will be notified via email the last Friday of each month.